LOVOO®
A Modern Dating App
Dating has evolved in the modern day and age. As times have progressed and lives have become busier, it is obvious that finding out the time to meet people and make acquaintances is obviously very limited. This has led to the rise of apps that facilitate interaction with people you would normally not communicate with. The dating apps allow a nice environment where people can take a look at someone's profile and decide whether they want to get in touch or not. It's a very simple of way of deciding and really ensures that you just don't overthink anything before contacting the other person and interacting with the other person. Good dating apps usually have a higher pool of users, have a secure environment and offer some sound overall features. Lovoo is one of the most popular dating apps right now. Let's see if the app is really worth your time or not.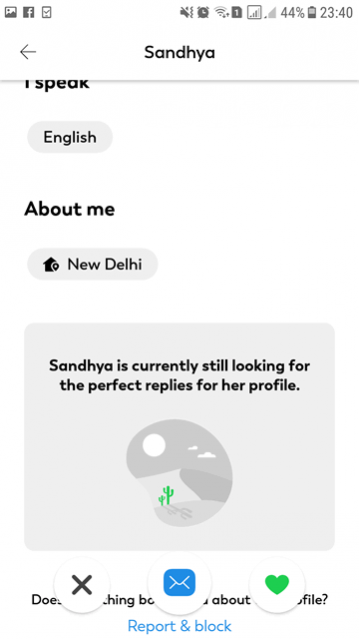 Lovoo strikes out as a nice and easy to use app. It basically ensures that anybody joining the app's platform registers through an e-mail or a contact number. This is a great way of ensuring that people can't sign in as guests and make random profiles just for the sake of it. While the app can do a lot more in order to ensure that the person is real and isn't making a fake ID, it is also true that most people don't want to divulge too much information on any dating app.
The app has a very simple set of filters which allow for sorting based on whether you want to meet males or females and the age ground in which you are interested. You can ensure that the app looks for people who live nearby by allowing the app to access your location. Without understanding of the location, the app would simply not work and would provide you suggestions about people who live too far away.
There are two ways through which you can get in touch with strangers whose pictures or profiles strike you as interesting. One way is through the app's match feature. With the match feature, you are basically given the option of communicating your interest to the other person based on the other person's picture and simple details. Swiping right on a picture means you want to communicate your interest while swiping left means that you aren't interested. There are buttons available on the screen as well if you want to use the buttons and don't like to swipe. The app "matches" you with the other person if they also swipe right for your profile. You would be notified and a separate chatroom would then be provided where you can converse or where you can exchange your numbers to switch to another platform.
The second way is through the Near you feature through which you can browse the profile of users and then try to contact them through a message. This is another innovative way to find people who you feel you would be able to get along with. The philosophy here is the same that there must be mutual consent before any party can really get in touch with the other party.
The problem with the app lies in its filtering of users as it has been observed that most of the users on the app are fake. The app doesn't take any action against fake users and this is where dating apps really need to be better. If fake users aren't filtered, there would always be mistrust amongst the users about other users and this would lead to lesser participation and lesser engagement.
Features:
Clean and simple user interface
Nice match feature which allows you to show interest in people you like through a single swiping motion
Good Near You option which filters users who are physically closer to your location
Nice filters through which you can narrow down your search based on gender and age group
Interesting Live feature which also offers opportunities to meet and greet new people
Conclusion:
Lovoo is one of the upcoming dating apps in the market. While the app has a solid interface and offers all the regular features of any good dating app, it lacks supervision of its users and also lacks good filtering options. If the app can sort out these issues, the app would be well and truly the best dating app in the market
---
Add a review
Tell us your experience with
LOVOO®
RELATED PROGRAMS
Our Recommendations
---
---
---
---